What an awful week this has been. Mom can't stop crying, dad is trying to comfort her. Bokeh and I are trying to put on a comedy show to make mom and dad smile. Starr is not leaving mom's side and showering her with kisses and Harley...well Harley is just being Harley.
We wanted to thank everyone who wrote us and blogged to us during Samick's passing. Mom is taking it REALLY hard. Today is the first day she has decided she needs to stand strong and not cry all day and get something done.
Samick passed peacefully to the Rainbow Bridge Monday evening around 6:35 pm. It went exactly as mom knew it would, she told Samick it was time to go bye bye, he was so excited because he hasn't been anywhere in awhile because he has been sick and peed everywhere. His tail was going and boy was he excited. We got to the vet's office and he wanted to look out the window. They called us back in the room and his tail was still wagging. Dr. Knapp agreed that it was time and gave him some sedation to make it easier on him. Samick laid down and mom and dad loved on him and told him what a good boy he was. Dr. Knapp let him go and he was gone just like that.
We got Samick over 12 years ago from a pet store. He was some of the best $99 we spent. He was such a gentle and sweet boy, not a mean bone in his body. Mom always wanted a therapy dog and knew after she had me tested that Samick would be an amazing one. At 10 years old they took Samick to be tested to become a TDI dog. His tail was wagging the entire test and passed with flying colors. Samick got to visit patient's at Doctors West Hospital and also was part of the reading program at the library where children could read to him. There will never be another Sammy Pooh in our lives and we miss him greatly.
The last picture of all 5 of my dogs together
Very first picture of our baby boy
My sweet boy
Our 2010 Christmas Card
Always so gentle with the new dogs we woudl bring in. Him with Bokeh
Harley and Samick have always been close friends
I love this silly photo
Samick at the hospital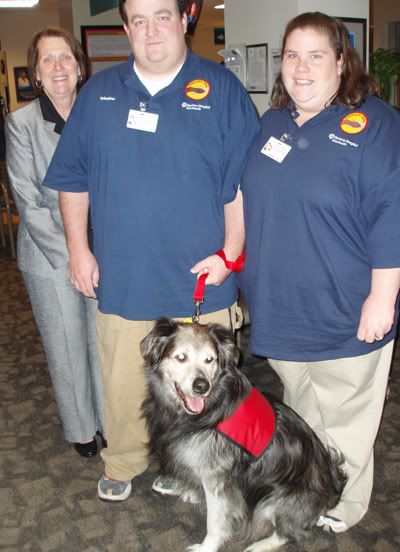 The kids at the library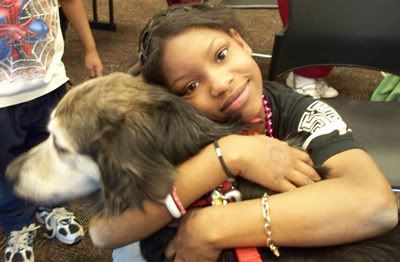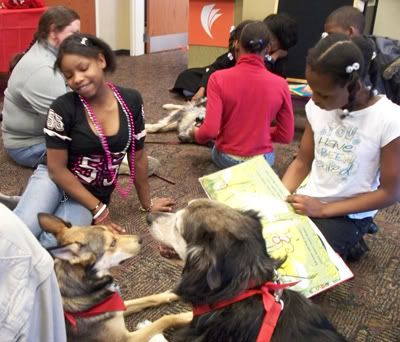 RIP our sweet soul
March 26, 1999 - August 4, 2011